Ciphers is a murder mystery, full of intrigue, sex, sadness and even humour. Justine is dead – who done it?
Justine was a secret agent but now she's taken an overdose, and her sister Kerry is determined to find who's responsible. Justine operated in a world of spies and lies where nothing is as it seems and body can be trusted. Her story is told through a series of short flashbacks and as we learn more we realise that Justine was not as sweet as she seemed, so the list of possible suspects grows. There was more than one person who would find it more convenient if she were out of the way.
To add to the convolutions of the main plot, there's another twist – the eight characters are played by just four actors with each one playing two parts. Changes in dress and mannerisms mean there's no confusion between them except in one heart stopping scene near the end.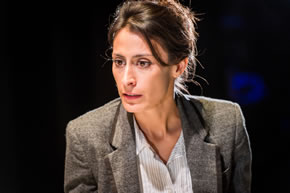 Shereen Martin
Justine and Kerry are played by Gráinne Keen. The other characters are Kareen, the young Pakistani who Justine bullies into spying on his friends, and Kai, Justine's married lover both played by Ronny Jhutti. Bruce Alexander is marvellous as the creepy Russian Koplov, moving into a completely different role as the sisters' gentle dad, and finally there are Sunita, the spooky bureau chief and Anouska, Kai's Russian wife both played by Shereen Martin.
It's a gripping and very clever play. Even when the guilty party is revealed it's not really clear cut. A throw-away line in another scene hints that there is still a lot more still to be told.
The setting is clever too. A series of large screens move in and out to mark scene changes, and they also project the sub-titles when Justine breaks into Russian or Japanese, sometimes with hilarious results.
All in all, I found it an entertaining, enjoyable, if slightly unsettling, evening.
Ciphers plays fron Tues 14 Jan- Sat 8 Feb
January 31, 2014