Residents take Tory leader to task on local issues
Hundreds of residents turned out at St. Paul's Church in Hammersmith on Tuesday evening for a 'town hall' style meeting with David Cameron. In one of a series of meetings in marginal seats around the country, the Conservative Party leader took questions from the audience on a wide range of national issues - but was also taken to task by some on controversial local issues.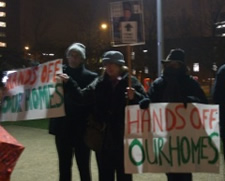 Residents of Hammersmith's Queen Caroline Estate, who have set up a campaign to preserve their neighbourhoods, voiced their concerns about the Council's controversial plans for social housing in the borough. "I think we need to have good social housing," said Cameron. "It is not a good idea to have low-cost rental housing on the one hand and private ownership on the other. We need a mixture. I'm proud of what they (H&F) are doing: they've cut council tax bills, they have a good record on low-cost housebuilding."
Maxine Bayliss of the Queen Caroline Estate pressed the point, asking: "Do you agree with Greenhalgh's decision to make people homeless?" referring to concerns over where council tenants will be rehoused if and when their estates are redeveloped. But the Conservative leader dismissed the claims, saying: "There are a lot of scare stories being put about by Labour. They are simply not true."
Residents from council estates in West Kensington had similar concerns: Richard Osband of the West Kensington Estate Tenants and Residents' Association wanted to know if Cameron would back the group in their bid to have their estate transferred from Council ownership to "a registered housing provider that is accountable to the residents". Residents and Tenants of the West Kensington & Gibbs Green Estates recently served a 'notice to quit' on their landlord, Hammersmith and Fulham Council, amid anger over redevelopment plans and claims that their neighbourhoods are 'not decent'.
"I will back the community right-to-buy," the Conservative leader said, before expressing his admiration for the Council. "I think Hammersmith and Fulham have a very effective and well-run council. They don't have plans to knock down council estates – that's black propaganda by the Labour Party." He said with local council elections and a general election just months away, now was the time for debate. "If you are not happy, you can vote and make your voice heard."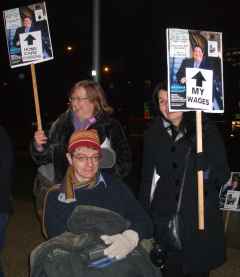 Touching on a separate local issue, resident John Grigg challenged the move by Hammersmith and Fulham Council to reduce Council Tax four years in a row, arguing this had been paid for by the introduction of home care charges for the disabled and elderly, and by an increase in meals-on-wheels charges. "The people who are the poorest are subsidising the Council Tax cuts," he said. But Cameron rejected the suggestion and responded by praising Hammersmith and Fulham, which some have dubbed a 'Tory flagship council': "Council tax has been reduced year after year, resident satisfaction surveys have got better. In May, there are local elections. If you don't agree with them, you can stand against them," he said.
On the planned third runway at Heathrow airport, which has been given the go-ahead by the current Government, Cameron had an emphatic reply for local residents: "Not going to happen," he said. "I have looked carefully at the debate and the case hasn't been made for it. We think the third runway should not go ahead. Full stop, period, a third runway will not be built under a Conservative government."
He was equally clear on major national issues. On Europe he said: "I don't think we ought to leave the European Union. I don't think it would be good for Britain". And on immigration, he said he favoured a controlled system: "Immigration has been good for Britain, it has been good for London, it has brought great benefits to the country. But when new countries join the EU, there should be transitional controls. With immigration from the rest of the world, there should be a points system with a limit," he said. On MPs' expenses, he said members of his shadow cabinet now had to publish their expenses online as they claimed them – and this, he said, had led to a marked difference in behaviour. One resident also expressed concerns about the way anti-terrorism laws were currently being made us of, leading the Conservative leader to criticise what he described as the "ineffective authoritarianism" of the current Government. "We've had too big an expansion of state power," said Cameron. "We need to roll it back, we will look at some of those powers. Some of the powers we've given to local councils to spy on you, to snoop on you, to enter your home, have to be rolled back."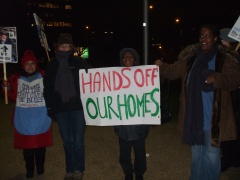 While well-rehearsed and convincing on national issues, some residents said the Conservative leader had not said what they wanted to hear on local ones: "He didn't give an answer," said Maxine Bayliss of the Hands Off Our Queen Caroline Homes campaign. "He seemed to say that he agreed with what Greenhalgh is doing. The only thing that stops them (H&F) going ahead with their plans is the legislation. I am worried they (a Conservative government) will change housing legislation to suit their needs."
John Grigg, who said he was a Labour voter, asked the question about Council Tax cuts and home care charges. He said of Cameron: "He didn't respond. He said people pay less for services but my point is, people are paying more. I am a bit worried that Hammersmith and Fulham's policy towards old and vulnerable people who need services will be adopted by a Conservative government. When the Conservatives took control of the Council four years ago, I expected cuts, but I didn't expect anything as horrendous as this."
Cameron also answered questions on the tax and benefits system, cuts in public spending, funding for higher education, small and medium businesses, the Lisbon Treaty, climate change, the effects of the press on government policy, the probation service, and Britain's 'special relationship' with the U.S.
And in a possible hint that the Hammersmith and Fulham Council leader might be part of a new Conservative administration, Cameron said: "We should have more people going from local government to central government."

Yasmine Estaphanos
January 5, 2010